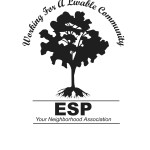 March 17, 2014
Dear East Sacramento Preservation Members:
On March 12th I became an official candidate for City Council, District Three. During the duration of the campaign Vice President Dave Edwards will take over leadership of ESP. I will continue to work on group issues and help with our education efforts regarding McKinley Village.
I will not use ESP's email lists in my campaign. However, most of you are also in my personal address book. If you get a campaign related email and don't want to be included in my outreach let me know and I'll make sure you're not solicited.
Our blog posts will cover the elections and candidate issues, but we will provide information on all the candidates, as available.
Ellen Cochrane
President
East Sacramento Preservation