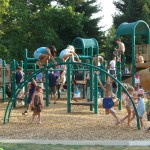 Join neighbors as they spruce up Bertha Henschel Park at 160 45th Street in East Sacramento.
In celebration of their 40th anniversary, Ross Recreation & Landscape who installed the playground equipment in the early 1990s, will be donating $5000 worth of upgrade materials for the park and are organizing a volunteer work day on Saturday April 13th  from 9 – 12pm followed by lunch at Noon.
Tasks will include applying cleaning compound, cleaning the barriers/rails, prepping the chipped paint on post caps with primer and painting, sanding and painting the park benches and tables, replacing the burned tunnel slide and other repairs. 
To simplify the check-in process on the day of the event, it is helpful to download the volunteer form and bring it already signed. The form can be found at: http://www.cityofsacramento.org/volunteers/Short-term_Volunteer_Agreement_and_Waiver.pdf 
For information or to sign up contact Cyndia Castro:  ccastro@cityofsacramento.org.