43rd Street in East Sac has a Little Free Library and
You're Invited to the Grand Opening!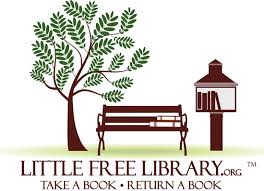 Catie B. is excited to be the steward for Little Free Library #11359 on behalf of our neighbors and our community! The way it works is simple:
–      We initially stock the LFL with a variety of good quality books that we hope will interest our neighbors
–      You stop by and take whatever catches your fancy
–      You return and bring books to contribute
–      LFL books are always a gift – never for sale!
Little Free Library is a movement started by Todd Bol of Hudson, WI and Rick Brooks of Madison, WI in 2010, and has grown to include little libraries in most states and dozens of countries.   Little Free Library's mission is to:
Promote literacy and the love of reading by building free book exchanges worldwide.
Foster a sense of community and connection as we share skills, creativity and wisdom across generations. 
Build more than 2,510 libraries around the world (the number of "real" libraries built by Andrew Carnegie)!*
Check out the LFL story at www.littlefreelibrary.org and look at the many amazing examples of little libraries.
Join us for our Grand Opening
April 13, 2:00 pm to 4:00 pm
Refreshments served
800 43rd Street, Sacramento, CA
Call (916)452-8855 for more information
Or just drive or walk-by to check it out!
*This number was exceeded in 2012