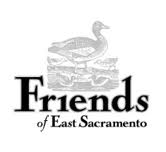 Here's a note from Friends of East Sacramento. They need volunteer help and have overseen a successful city government/volunteer effort for the jogging trail:
Dear McKinley Park Volunteers,
Please circle Saturday, October 8 and Saturday, November 12 on your calendars.
Next Saturday, October 8, from 9 a.m. to noon, will be devoted to giving the area around the Clunie Clubhouse a good raking, weeding and pruning to prepare for the 75th anniversary celebration of the McKinley Library and Clunie Community Center.
While the city is able to provide us with some supplies, we need to ask for your help.  If you have rakes and/or garden clippers that you could bring with you next Saturday that would be a big help.  Also, please bring your garden gloves and be sure to wear closed toed shoes.
Snacks, water and coffee will be provided to volunteers.
R.S.V.P.s are requested, though drop-in help will also be appreciated.
Volunteers should meet at the picnic tables by the Children's playground at 601 Alhambra Boulevard.
Also, please add to your calendar our November volunteer day – Saturday, November 12.
We wanted to share with you the good news about the jogging trail. Many of you have been with us over the three volunteer days earlier this year that we have been working on redoing the jogging trial. Thanks to a generous donation from Councilman Steve Cohn and the Pops in the Park Committee we were able to get enough decomposed granite to finish redoing the jogging trail.  Much of that work was completed this weekend with a special work day organized by the Councilman Cohn and the City's Parks Department.  At our November 12 volunteer day we will complete this project.
 If you are interested in volunteering at McKinley Park, or would like more information on how to help, go to friendsofeastsac.org, e-mail friendsofeastsac@aol.com or call 452-8011.
We hope to see you there.
And, again, thank you for all your help.
Friends of East Sacramento