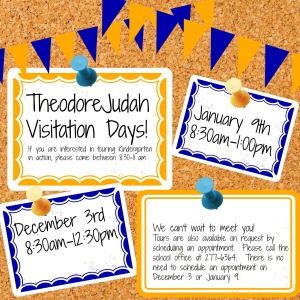 Theodore Judah Visitation Days
 December 3, 2014- 8:30-12:30 PM
January 9, 2015- 8:30-1PM
 Tours are also available on request by scheduling an appointment.  Please call the school office at 277-6364.  There is no need to schedule an appointment on December 3 or January 9.
 Visitors, please come through the main entrance on McKinley Blvd and report to the Library. Please note that  Kindergarten dismisses at 11:20 am, so if you are interested in touring Kindergarten in action, please come during the 8:30-11 am window.
 We look forward to meeting prospective parents!