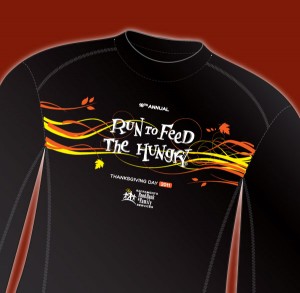 Check out this year's super cool shirt!! And, there's still time to sign up!
The race will run its usual course through East Sacramento. ESP will be there to document the pounding feet at the corner of 45th and J Streets—the epicenter.
Come join the fun! Sign up information below.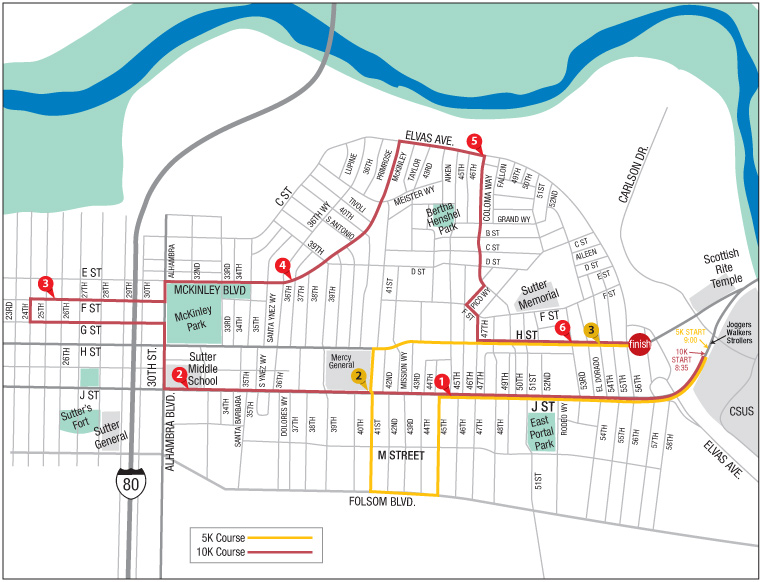 Event Information
WHAT
10K Run & 5K Run/Walk
WHEN
Thanksgiving Morning – Thursday, November 24, 2011— Rain or Shine!
10k – 8:35 a.m. ; 5k – 9:00 a.m.
WHERE
The race starts on "J" Street just West of the entrance to the Sacramento State campus and runs through the beautiful tree lined streets of East Sacramento.
FEES
Adults: $35* Children (15 & under): $20 Virtual Runners: $35 Teams Members: $50
Adults (Timed): $40; Children (15 & under, Timed): $25
* If you would like to receive an official time for your run, there is an additional fee of $5 for your timing tag.
Packet Pickup
Pre-Registration Packet Pickup – available Sunday, November 20: 11am-6pm and Monday through Wednesday, November 21-23: 10am-9pm at the Sacramento REI Store.  See Pre-Registration & Packet Pickup.
Race Day Registration 7:00 a.m. until 9:00 a.m. at the far end of the esplanade when entering Sac State from J Street, in front of the turn-around.
All pre-registered runners and walkers are guaranteed a gender-specific long-sleeved technical t-shirt in their size (view shirt sample here) and while we intend to order enough shirts for all participants, there is no guarantee that Race Day registrants will receive a shirt or their desired size.  View men's and women's shirt sizes here.
Race Day Registration
Pre-registration Packet Pickup on Race Day 7:00 a.m. until 9:00 a.m. on the right of the esplanade when you enter Sac State from J Street.
Please note:  Race day registrants will not be timed.
Race Start Times 10k – 8:35 a.m. 5k – 9:00 a.m. All 5k Fun Run/Walkers and those with strollers & baby joggers will follow behind the 5k runners.
Please look for the appropriate area to line up. There will be a fenced corral closest to the start line for timed runners.  All untimed participants must line up behind the timed corral.  Also, announcements will be made throughout the morning directing participants to the correct starting areas. The color of your bib determines which start area you belong in.
Race Features
Custom long sleeve gender-specific race shirt  (View men's and women's shirt sizes here.) View shirt design here
Refreshments
On course music
Post race music
Prize money
Age group awards
ChronoTrack Timing
Jumbotron video screen
Live television race coverage

The "NO" List
Please spend a moment to go over this list.
The following are not permitted or not available:
No DOGS! … for the safety of both species!
No Roller Blades, bikes, scooters or skateboards
No Registration refunds
No Transfers
No Race Day Registrants will have their race timed
No Strollers, baby joggers, or wagons in the 10k and 5k Timed races
This year there is no registration at REI Folsom or REI Roseville.  However, new this year, we are offering packet mailing with your registration.