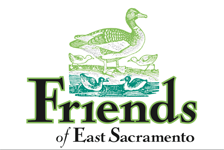 Friends of East Sacramento continues to do a stellar job supporting McKinley Park. Join the volunteer crew on July 7th. Details from FOES below.
Hello Neighbors and Volunteers,
Please join your neighbors and friends Saturday, July 7th from 9 to 12 in McKinley Park. We'll be pruning, weeding, raking and sweeping around Shepard Garden and Arts Center.
Meet by the picnic benches near the Shepard Garden and Arts Center, 3330 McKinley Boulevard. There will be coffee, water and snacks.
Parking is available behind the Center's building (off of Park Way, between 33rd and 35th Streets).
Stay as long as you can–your efforts will be appreciated! Remember to wear close-toed shoes and bring (if you have them) garden gloves.
Friends of East Sacramento
P.S. While we won't be having a volunteer day in August we are planning on one later in the fall. As soon as we have a confirmed date we will let you know.