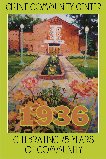 It's A Party!
Please join us  Sunday, October 23rd,  1 to 4 p.m.
Clunie Community Center and McKinley Library  
601 Alhambra Blvd.
From 1 to 2 p.m., there will be presentations on the history of East Sacramento and Midtown, McKinley Park, Clunie Center and the library
The library will be open that afternoon for special programs for children. From 1 to 4 p.m., old-fashioned children's activities and board games from the 1930s such as Scrabble will be set up for children and teens to play. At 2 p.m., Penny the Clown will perform in the library.
Across the hall in the Clunie Center auditorium, there will be dancing to live big-band music by SwingMasters from 1 to 4 p.m.
As part of the celebration, McKinley East Sacramento Neighborhood Association is planning an art exhibit and sale of art from regional plein-air artists. The group is hosting the first Sacramento Plein-Air Paint-Out from 8 a.m. to noon that morning. Paintings by 17 artists will be on display in the Clunie entrance hall and auditorium. All the art will be available for purchase, with a portion of the proceeds going to projects in the neighborhood supported by MENA. Various community leaders and the show's attendees will judge the art. Cash awards will be presented to the winning artists.
Special guests from Sacramento Art Deco Society will attend in period costumes, and vintage cars from the 1930s will be parked in front of the library.
And no party would be complete without cupcakes, popcorn and old-fashioned root beer floats.
All events and refreshments are free.
For more information on the celebration or to volunteer to help the day of the event, call 452-8011 or email friendsofeastsac@aol.com