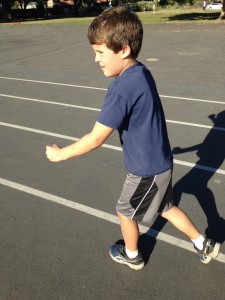 Theodore Judah Elementary in East Sacramento continues to focus on health with its annual Jog-a-Thon fundraiser. The event, which began more than 10 years ago, has grown significantly and is now the school's second largest fundraiser. It is expected to bring in $18,000 on November 14.
"About a decade ago, Theodore Judah began looking for more healthy ways to raise funds and engage the community," said Principal Corrie Celeste of Theodore Judah Elementary. "This fundraiser benefits our school-wide music program, which is impressive and improves each year. Without this fundraiser, we would not be able to have a music teacher at our school."
According to Celeste, in addition to learning about music appreciation, history, singing and rhythm, the school has implemented a strong progressive note reading system, which has allowed them to prepare students to not only read, but to write music as they move up through the grades. "We see the effects of our music instruction as it enhances our students' creativity and critical thinking abilities," said Celeste.
This year, the Jog-a-Thon has expanded its fundraising efforts and for the first-time ever has incorporated a title sponsor – Pettit Gilwee of Lyon Real Estate, who is providing a cash donation and in-kind services. Additionally, there are now business sponsorships available for companies and organizations.
"The Jog-a-Thon pulls the community together," said Jill Gardiner, who has been producing the event on behalf of Judah for the last seven years. "Parents and volunteers come out by the dozen to help to make it run smoothly. And, the kids just love it – the attention, the pride of accomplishing their goal and, of course, the competitive nature of outrunning your best friend."
Students who raise $50 or receive 20 donations (of any monetary value) receive a t-shirt after the run, all of who wear their gear proudly throughout the school year.
Businesses committed to the 2014 event are Compton's Market, Run to Feed the Hungry event producer Rich Hanna, Shields Electric, Law Office of Stephanie Glorioso Epolite, Firefly Art, East Sac Barber Shop and Full Bleed Screen Apparel Printing. Only two business sponsorship slots are left at $100/each and include company logo on hundreds of event t-shirts.
For more information or to take part, click to the Theodore Judah Elementary PTA website at www.theodorejudahpta.org.