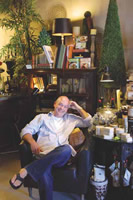 East Sacramento Preservation Free Speaker Series is proud to host Twiggs with Wes Green on Tuesday, Oct 20, 6:00 PM – 7:00 PM at the Clunie Clubhouse, Alhambra Boulevard, Sacramento, CA. Wes will give a talk, and create a floral design, which will be raffled off to a lucky winner.
As an international buyer and award-winning designer, Twiggs owner, Wes Green, has traveled the world gathering ideas and inspiration for his unique floral creations and home accessories. "I look at floral design as an art form and as an avenue to study and imitate nature. I tell our clients to 'Expect the Unexpected.' East Sacramento Preservation is proud to host his talk and bouquet demonstration. A lucky raffle winner will walk home not only with designer knowledge, but a free bouquet.
Note: This East Sac shop has some of the most unusual and creative floral designs I've ever seen. Wes is a genius.
Ellen from ESP
Twiggs
3250 j street,