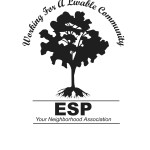 Below is ESP's thank you letter to Council Member Cohn for today's meeting. The board and our officers sat down with Steve Cohn to discuss McKinley Village.
Dear Council Member Cohn:
Thank you for meeting today with the officers and the board of East Sacramento Preservation on the topic of McKinley Village. We appreciate your time and attention to your constituents.
Here again are our discussion points.
1. We are opposed to the project as proposed. We have clearly explained our position in our opposition paper. Today we stressed the moral negligence of exposing future McKinley Village residents to the various pollutants they will face living next to the freeway, railroad, city landfill, and noise in the depressed bowl shape of this project site. Air pollution, in particular, will be a severe threat to the health of the adults and their children.
2. We look to you to represent your constituents and protect East Sacramento from poorly planned, inadequately connected, health endangering development.  We ask you to vote no on the proposed project when it comes before the City Council.
3. IF the City ignores the serious health consequences this project creates, decides to accept the liability of this project and the development moves forward, ESP will support the traffic plan of the project only if two-way vehicular access is provided at Alhambra Boulevard.
4. We are pleased that you and your office will consider polling the residents north of H Street in East Sacramento. We urge you to poll the north of H Street community using robocall, or some other expeditious method by the end of February. This is such an important issue and it's very important that you hear your constituents' opinions on this project.
We appreciate your 19 years of service to the City of Sacramento. We hope you will promote the health of our neighborhoods by continuing to support this jewel of the city–East Sacramento.
Thank you,
Ellen Cochrane
President
East Sacramento Preservation, Inc.