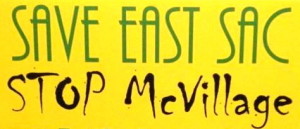 Critical Information:
I have 150 signs left to place. Please get them out into the community.
You can pick them up at:
Ellen Cochrane's
926-43rd Street
Monday, April 21st at Clunie Center located at 601 Alhambra Blvd. in east Sacramento beginning at 6:00 p.m, Councilmember Steve Cohn will be hosting a 'community forum' on McKinley Village.
The City Council is scheduled to vote on McKinley Village on Tuesday, April 29 beginning at 6:00 p.m. in the City Council Chambers.