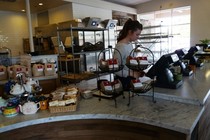 New Cafe Les Baux Unveiled at 51st & Folsom by Barbara L. Steinberg

Remember Cassidy's Family Restaurant? Most people shrugged when it closed. Well, stop shrugging and check out the new Les Baux a French-styled bakery and cafe. Just two weeks young as of April 7, 2012 in Cassidy's old shell.
Brought to you by the owners of La Bou…Les Baux is chicer version of the La Bou and a welcome addition to this East Sacramento neighborhood. Rustic breads, filtered coffees, small sandwiches, and pastries. Breakfast and lunch only; dinners to be added sometime down the road.
The makeover from Cassidy's to Les Baux is nothing short of amazing. Old wine staves on the interior with marble countertops. The exterior walls have been done over in recycled wood. It's fabulously rustic.
Late afternoon and there are only a few remaining loaves of bread in the case.  Sadly, I am unable to partake – it's Passover! No bread for eight days and it's only Day 1! For a bread addict like me, this is agony.  The owner, Annie showed me a sample of their French baguette.  Hmmmm, this would be torture. People were stopping in for coffee – each cup is brewed fresh – filtered – don't expect to rush in for your morning "caff" fix. It's European – slow and luscious.