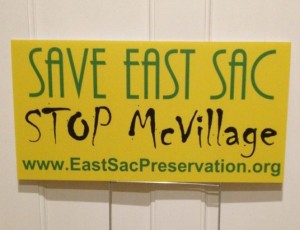 Pick up lawn signs at 926 43rd Street. No need to call, the signs are available for immediate pick up. Please place as many as you can in East Sacramento. Call 457-2725 for more information or to ask for delivery.
Come to the Midtown Meeting on McVillage!!! It's important that we support our midtown neighbors and let Steve Hansen know that we Don't Want McKinley Village. Below are the details:
McKinley Village Town Hall – Thursday, February 20
Steve Hansen's office has scheduled the second town hall related to the McKinley Village project's potential impact on Midtown. This meeting will serve as an opportunity to get the latest information about the project and voice your most recent concerns. This meeting will focus on the traffic impact on Midtown and impact on Sutter's Landing Park. City staff will be present to help answer questions and provide information.
The town hall will be held Thursday, February 20 from 6:00 – 7:30 pm at the Ethel MacLeod Hart Senior Center, Redwood Room. I look forward to seeing you there.
McKinley Village Town Hall
Thursday, February 20
6:00 – 7:30 pm
Hart Senior Center, 915 27th Street