Local shops employ our neighbors, support teams and donate to charities. ESP celebrates the holidays with profiles of our East Sacramento shops. Support our neighbor-merchants. Shop Local!
Yesterday we introduced Juno's, our newest J Street eatery.
Now, what about that cuppa joe?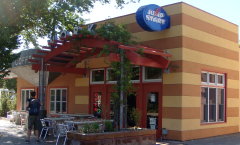 Coffee Works set down roots on Folsom Blvd on the corner of the 34th/35th Street Alley in 1982 and never left. The family business specializes in Central American coffee and does the roasting on site.
The baristas are famous for their friendliness and service. Coffee Works is a definite stop to shop for the holidays. You can order coffee shipped and gift cards are available.
(800) 275-3335
3418 Folsom Blvd. Sacramento, CA 95816
M-F      6 am to 6 pm
Sat       7 am to 6 pm
Sun      7 am to 5 pm