Category Archives:
Essay

A Community Process
The below information is from the Sutter Park Website.
Transitioning a neighborhood of such history, identity and character is both a great challenge and a great responsibility. To prepare, the team at Sutter and StoneBridge Properties hit the books—and the streets.
Working with noted local historian Paula Peper, StoneBridge has commissioned a thorough history of the site in order to better understand its origins and lineage—socially, culturally and ecologically. This report supplements two other books (free on line) we've published on Sacramento, Sacramento Park Neighborhoods andSacramento's Park Neighborhood Trees. The latter two books are part of an insightful book series published by StoneBridge called "Roots of the Past."
(You might ask, why does a development company devote so much time to publishing books? Because we believe that by studying wonderful old neighborhoods, we'll identify the enduring characteristics that can be replicated in the development of new neighborhoods.)
We've also done extensive community outreach, talking with—and actively listening to—residents, neighborhood groups and planning officials about your love for this neighborhood, your hope for its future, and your questions and concerns about how this redevelopment will affect it.
In response to these community talks, Sutter and StoneBridge have incorporated significant neighborhood feedback into the development plan that was recently submitted to the City of Sacramento for review. And these talks are ongoing. "We will continue our outreach into the community to refine the plan," says StoneBridge president, Randy Sater. "Getting neighborhood feedback is critically important to us."
Central to this plan is a set of design guidelines—for homes, open spaces, street patterns and more—that sit comfortably, familiarly even, within East Sacramento's existing look and feel. And it's more than just fitting into the surroundings; the new Sutter Park Neighborhood will add parks, walkways and other public amenities, while substantially reducing the levels of traffic that are now generated by the hospital.
As we like to remind one another, it's really about reconnecting the neighborhood.
Important Dates
March 6, 2014 – 5:30 pm
Planning Commission
New City Hall
915 I Street, 1st Floor
Sacramento, CA 95814
April 8, 2014 – 6:00 pm
City Council
New City Hall
915 I Street, 1st Floor
Sacramento, CA 95814
The above information is from the Sutter Park Website.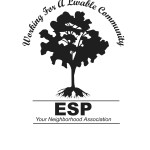 My name is Ellen Cochrane and I am the president of East Sacramento Preservation. I represent more than 300 members and 100s of other deeply concerned East Sacramento residents.
I'd like to say that ESP is grateful and supports the work of our fellow neighborhood groups speaking in opposition of this project.
East Sacramento Preservation opposes the planned McKinley Village for several reasons, not least because it proposes to invade our streets with 3,500 more cars per day.
All of us who drive on H or J Street, or Alhambra Blvd, between 5-6 pm, or cautiously navigate Folsom Blvd. know the consequences this increased traffic burden will cause.
The project's traffic scheme will increase traffic in these area and also add a whole new hot spot in the north side of the neighborhood with the proposed 40th Street Exit.
The developer stubbornly refuses to compromise on matters of great importance to us. But let's take a broader look at things. It's neighbors, all of us volunteers, many who work in the day, going up against a wealthy, politically well-connected, professional development machine. No wonder citizens feel abandoned. We need to level this playing field.
The developer has wealth, access to media support, political insiders to do his bidding, hired professionals to manipulate facts to his advantage. What do we have? That's why I call on our Councilman Steve Cohn, our elected representative, to truly represent us. Mr. Cohn has given 19 years of service. He has championed neighborhood projects, alternative energy sources and supported Sutter's Landing. Neighborhood services are the most important part of a councilmember's job. We elected him to speak for us, to be our voice, to defend the fragile, classic neighborhood we share and cherish. He knows this project is bad, bad in and of itself, and bad for this neighborhood.
When we met in his office a week ago his voiced concern about being the sole vote against the development. We want hin to not care about that. We elected him to not mind being a solitary vote if that vote is a pro-neighborhood vote, if it's a vote of conscience, if it's the right vote, and the right thing to do.
Mr. Cohn stand up alone if you have to, but please stand up for us. We also ask you to lead. Other council members should and must heed your recommendations about this unhealthy project.
There is absolutely nothing good in the McKinley Village development for us. Nothing. Even its name is thievery. It's not good infill. It's not smart growth. Smart growth does not harm and alienate neighbors.
So far you have not intervened to change this project or avert a crisis in this neighborhood. You haven't publicly challenged the absurd falsehoods in the Draft EIR.
This is the eleventh hour: we ask you to assume leadership. We remind you, and everyone, that we still retain the power of the vote.
Once, when we expressed our traffic concerns, A McKinley Village representative said to us, "You people live in an urban world. Get used to it."
Please defend us so we can say, East Sacramentans will fight for their neighborhood. Get used to it."