Yearly Archives:
2013
Christmas with a Cause – December 6
Christmas with a Cause, a musical benefit for Sacramento's most invisible children, will take place on Friday, December 6, 7 p.m. at Clunie Hall, 601 Alhambra Boulevard.  The concert features Autumn Sky/Hans! (of Joy of Madness), Ricker Berger, Justin Farren, Atlas & Arrows, Sandra Dolores, Brian Chris Rogers, J Krage and special guests.  Your $10 donation will benefit the Mustard Seed School.
Sacred Heart Holiday Home Tour – December 6-8
Sacred Heart Parish School will hold its annual Holiday Home Tour on Friday, December 6, Saturday, December 7, and Sunday, December 8.  The tour will feature five houses in East Sacramento's Fabulous Forties neighborhood decorated for the holidays by local interior designers and florists.  The tour is expected to attract more than 5,000 attendees. Proceeds go to the school to offset tuition and provide financial support to families that otherwise might not be able to afford a Catholic education. Tour hours are Friday from 11 a.m. to 8 p.m.; Saturday from 10 a.m. to 7 p.m.; and Sunday from 11 a.m. to 5 p.m.  Tickets are $25 in advance, $30 on the days of the tour. Tickets are available online and at more than a dozen retailers including Haus Home and Gifts, The Pink House, Talini's Garden Center and East Sac Hardware. During the tour weekend, tickets will be sold at the school library and at the home at 1325 45th St.  There will be a cafe and gift shop at the school, located at 856 39th St.  For more information and a full listing of retailer locations, call 556-5050 or visit www.sacredhearthometour.com.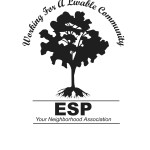 East Sacramento Preservation's December Meeting is on Tuesday, December 10, 2013,   7-8 pm in the East Sacramento Room at Clunie Clubhouse. Light refreshments will be served.
Agenda:
1. How to comment effectively on the Draft Environmental Impact Report for McKinley Village. (Comments are due on December 27, 2013)
2. Update on the paper petition drive.
You can sign the petition right now electronically. (See below.) Please forward the e-petition information to any and all who might want to sign it.
This is the e-petition for NO On McKinley Village, as proposed. It's critical to sign this! If we are to make change and get our representatives to hear us, we must speak up! Please click the link and sign!!! Remember, this project will funnel 1500+ cars a day through our streets. Hardest hit? McKinley Park.  Click here to go to the petition.