Yearly Archives:
2013
Make One Dollar Two and Help ESP Spread the Truth About McKinley Village!!
Donations through the end of January will be matched up to $1000.00 by an ESP member who wishes to remain anonymous. Whatever you give will be doubled! Go the Membership Page on the Website to use PayPal, or mail your donation to:
East Sacramento Preservation
P.O. Box 191763
Sacramento, CA 95819
ESP continues to educate the neighborhood about the proposed McKinley Village project. In the next few months we'll need to pay for signs and mailers, and we're asking for your help. Time is running out on opposition to this project. We need to make sure every neighbor knows what is being built and how it will affect our neighborhood.
To date we've held a large community meeting and brought together other neighborhood groups. We've met with council and planning commission members. We distribute flyers and up date the community on our website. We knock on doors and talk to neighbors. Please help us continue the campaign to educate the neighborhood through signs and mailers.
Thank you for all your help,
Ellen Cochrane
East Sacramento Preservation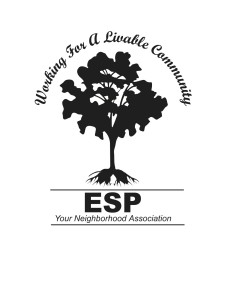 Design the Best No As Proposed McKinley Village sign with slogan!
We are seeking entries that:
Include a QR code (scan box) space
Include space for a web address
Express the neighborhood's reaction to the project
Have an easily readable slogan
Have an eye catching color scheme and, or image
Identify the project and the potential negative impacts
Is a sign is for neighbors, to inform them about the project
Ideas can be hand drawn, or explained in words, please send your entry via computer as an attachment (you can take a picture and send it), or send to our P.O. Box listed below. Include the following with your entry:
Name
Address
Phone
Email
Winning Prize — $25 gift certificate to a locally owned East Sacramento business of your choice.
All entries receive a free membership to ESP and are entered into a drawing for Drive Like Your Kids Live Here signs.
Contest Ends January 7, 2013. Winners will be announced January 9, 2013 on our Facebook page.
East Sacramento Preservation Mailing Address
P.O. Box191763
Sacramento, CA 95819