Monthly Archives:
September 2012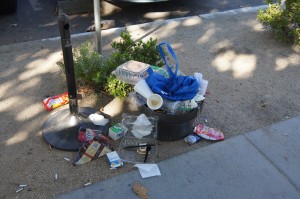 ESP has repeatedly asked Mercy Hospital to address the garbage problem around the hospital, both litter and cigarette trash. At the last Neighborhood Advisory meeting with Mercy, administration agreed to put a garbage can back in front of the hospital. This didn't happen and garbage piled up over the weekend. The neighborhood deserves better than this, Mercy. Please clean up your act. Place trash cans around the hospital (more than one). Empty them. Have housekeeping circle the hospital twice a day to keep the campus in a decent state.
East Sacramento Preservation Meeting
September 12, 2012
7-8 pm
Second Wednesday of each month
Clunie Community Center
East Sacramento Room
601 Alhambra Blvd, McKinley Park
F Street and Alhambra Blvd
Sacramento, CA
Guests can have their items on the agenda. Email your requests to contact@eastsacpreservation.org or call (916) 457-2725.