Monthly Archives:
October 2011
County Ranger Stan Lumsden shares East Sacramento's concerns about the Parkway in terms of illegal camping, gang activity, and overall Parkway habitat. He explained his position and plans and listened carefully to concerns and suggestions at the Tuesday night community meeting hosted by SHARP, a burgeoning citizen group working to improve parkway conditions.
Lumsden asked the community to continue applying pressure on the powers that be. That being said . . .River Park and Curtis Park residents—Please consider going to the meeting with Phil Serna on Monday, October 31, at 10:00 am. Since he is your County Supervisor, your voices (votes!) are important.
Phil Serna's office:
700 H Street, Suite 2450
Sacramento, CA 95814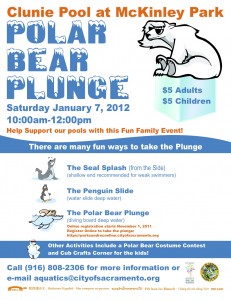 The City of Sacramento, Parks and Recreation is holding its 1st Annual Polar Bear Plunge on January 07, 2012, as a fundraiser and community awareness event about the loss of funds to support our pools. They would like to request your support in any way possible.  This could include help marketing our event to ensure we get a large number of participants and sponsors, directing anyone who can help sponsor this event or the City of Sacramento Pools our way, and help with any ideas that would make this event a success.  If you can help us in any way please contact us.
Contact for more information:
Stephanie Collier
scollier@cityofsacramento.org
(916) 808-2308